New Braunfels Utilities CEO Ian Taylor Announces Retirement from Public Service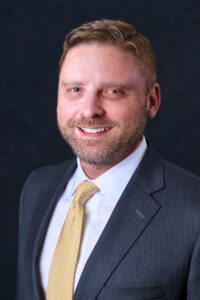 (New Braunfels, TX – April 13, 2023) – At today's New Braunfels Utilities (NBU) Board of Trustees Meeting, NBU Chief Executive Officer (CEO), lan Taylor, announced he will retire from public service at the end of June 2023, after 22 years with public utilities. Taylor has dedicated the last 17 years to serving the needs of our community with NBU. He was appointed CEO in 2016. After his retirement, Taylor will continue in an advisory role, working with the Board of Trustees to ensure a smooth leadership transition.
Also, at today's meeting, the Board selected NBU Chief Operations Officer (COO), Ryan Kelso, to serve as Interim CEO, beginning July 1, 2023, and directed staff to begin the search for Taylor's replacement.
Taylor has led NBU during a period of historic growth and transition. During his tenure, New Braunfels ranked as the second fastest-growing city in the nation while NBU scaled in size and sophistication to meet the needs of a rapidly changing community and industry. Since 2016, NBU expedited a capital program that tripled in size in an all-out effort to keep pace with growth and return the water system to compliance. New Braunfels Utilities doubled its community's water supply and began construction of an Aquifer Storage and Recovery project. New Braunfels Utilities brought together regional partners to create a first-ever One Water Road Map to secure our water supply and protect our springs for every generation that will follow. The NBU electric system expanded and continues to deliver reliability that outperforms every sector of the industry.
Under Taylor's leadership, NBU master planned every critical function of the utility, established an ethics program and overhauled its technology systems to eliminate technical debt and harden the systems that undergird our community's essential services. New Braunfels Utilities' conservation legacy project, the Headwaters at the Comal, completed Phase One construction and kicked off Phase Two after successfully launching its capital campaign.
New Braunfels Utilities has reached an inflection point where its efforts to get ahead of growth have paid off and can now focus resources on better meeting the changing expectations of our community. Programs are being developed that will provide new and innovative solutions for customers wishing to integrate distributed energy resources such as electric vehicles, rooftop solar, battery storage, and other solutions for their homes and businesses. The first-ever Rate Advisory Committee was such a valuable resource for our community that NBU will kick off the next public engagement process later this year to update its Energy Integrated Resource Plan, with another project to follow, which will focus on water resource management.
Taylor leaves NBU in a strong operational and financial position. New Braunfels Utilities enjoys one of the highest bond ratings among its peers, and has further strengthened its financial position by working with the New Braunfels City Council to approve impact fees and a two-year rate plan which will allow NBU to continue to provide reliable services at competitive rates.
Taylor commented, "Years ago, I chose public service because I wanted my time away from family and friends to be spent in service to others. I never imagined I would get to serve with a team of professionals that would give of themselves in such extraordinary ways during extraordinary times to ensure the delivery of essential services to an entire community. This NBU team seems to have no end to their capacity to give. No matter the situation – record growth, COVID-19, Winter Storm Uri, or any other calamity – they perform out of a sense of duty and get the job done. I love them all and will miss them dearly."
Judith Dykes-Hoffmann, NBU Board President, added, "On behalf of the entire NBU Board of Trustees, this is a bittersweet time. We are incredibly proud of Ian's accomplishments at NBU over the past six-plus years as CEO. He's led the organization through remarkable times, some of which many CEOs may never experience during their tenure. The NBU Board of Trustees has decades of institutional knowledge to lead the utility into the future. In addition, he's assembled a strong and resilient leadership team, which is well-prepared to take the utility to the next level. Ian leaves NBU in a very good place as we begin to look to the future and identify our next CEO. We wish Ian and his family the best as they enter their next chapter."
###
About New Braunfels Utilities:
New Braunfels Utilities (NBU) strives to be a trusted community partner dedicated to excellence in service and is one of 2,000 community-owned, nonprofit public power electric utilities in the nation. With a mission of strengthening our community by providing resilient essential services, NBU is governed by a Board of Trustees comprised of residents appointed by the New Braunfels City Council. New Braunfels Utilities provides electric, water, and wastewater services. Utility revenues are continually invested back into the systems of the customers, which benefits the community. New Braunfels Utilities makes an annual transfer to the City of New Braunfels, which in turn helps to pay for services such as fire, police, and parks. Follow NBU on Facebook at facebook.com/newbraunfelsutilities, on Twitter at @nbutexas, and to learn more, visit nbutexas.com.