Be a part of helping to preserve and protect the Comal Springs River System by enrolling in NBU's Round Up Program today.
---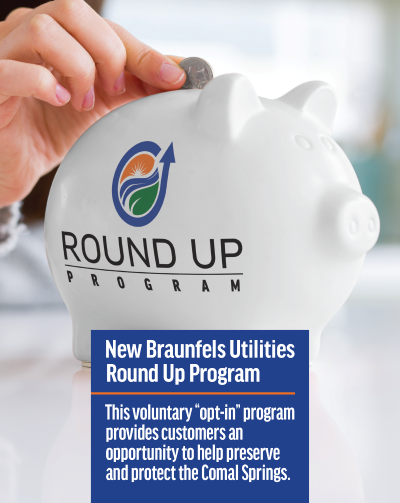 How Does It Work?
New Braunfels Utilities' customers who voluntarily opt-in and enroll in the Program will have their monthly utility bill rounded up to the next whole dollar, with the difference being donated to NBU's conservation legacy project, the Headwaters at the Comal. Monthly donations per account will be between one and ninety-nine cents, with yearly donations not exceeding $11.88.
Example: If your utility bill total is $81.48, it will automatically round to $82.00, and the remaining $.52 will be donated to the Round Up Program.
Customers can opt-in to the Round Up program with their first donation to begin May 1, 2022.
How Do I Sign Up?
You can enroll in the program anytime by:
Clicking the button below and submitting the online form.
Contact us at 830.629.8400 and ask to be enrolled.
You can also make a one-time donation to the Headwaters at the Comal using the link below.