New Braunfels Utilities Announces Utility Access Cover Design Contest Winners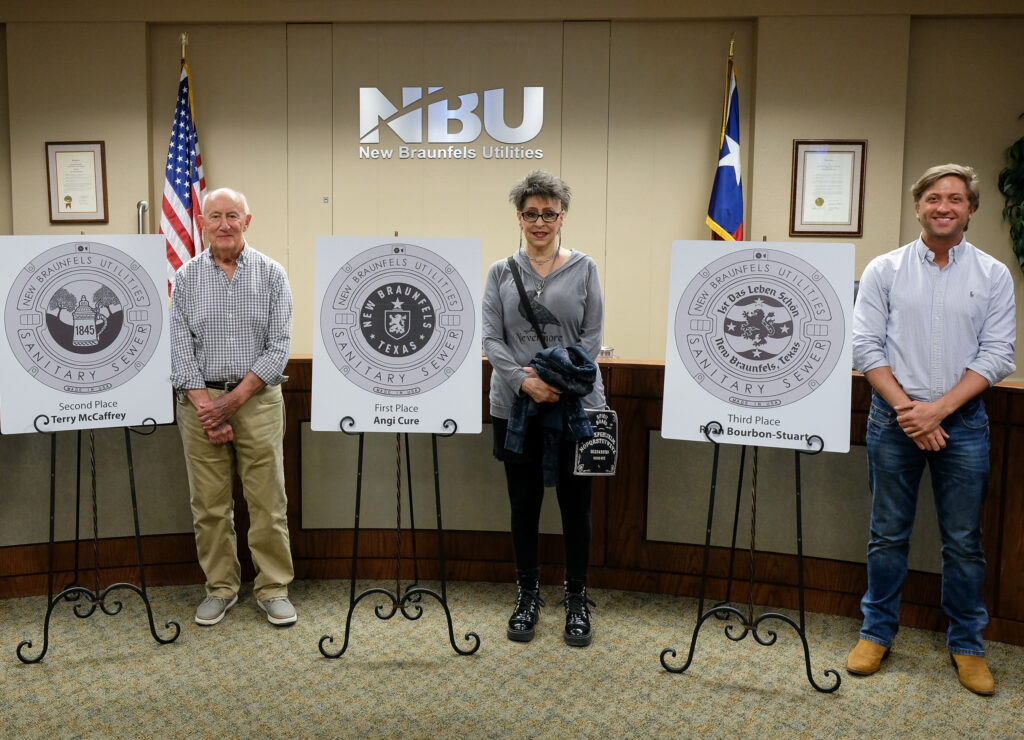 FOR IMMEDIATE RELEASE
Contact: Melissa Krause
Chief Strategic Communications and Security Officer
830.629.8440 |  mkrause@nbutexas.com
(New Braunfels, TX – April 27, 2023) – New Braunfels Utilities (NBU) is pleased to announce the results of its Utility Access Cover Design Contest. Out of 15 creative design submissions, three designs were selected based on meeting the creative criteria – highlighting culture, heritage, and history in New Braunfels and helping raise awareness of the important role each of us plays in keeping our rivers clean by protecting our storm and wastewater systems from becoming polluted. The three winners and their designs are First-place: Angi Cure – Coat of Arms; Second-place: Terry McCaffrey – 1845 Stein, and Third-place: Ryan Bourbon-Stuart – Lion of the Two Rivers.
The winners were invited to attend the NBU Board of Trustees Meeting on Thursday, April 27, where they were recognized for their winning designs and contribution to our community. The presentation included unveiling the artistic renderings and announcing a long-term plan for producing the collection of utility cover designs. Beginning this year, the first-place cover will be created and installed throughout the community, the second-place cover will be made and installed the following year, and the third-place design will roll out in year three.
"The Utility Access Cover Design Contest offered a fun and memorable opportunity for community participants to make history and mark the significance of our area's heritage with creative art. The three winning designs will be die-cast and used as utility access covers throughout our community for new development and capital improvement projects, including some projects in the downtown area. These artistic metal covers will be a lasting legacy and visual icon for locals and visitors," said Chief Strategic Communications and Security Officer Melissa Krause.
In June 2022, NBU customers, including households ages 16 or older, were invited to submit original artistic designs. The contest criteria stipulated that the artwork must be original and reflect the New Braunfels community's culture, heritage, or history. Each piece of art will become the property of NBU with universal use rights and subject to artistic enhancement where necessary.
A panel of community judges included Miles Granzin, immediate past president of the Wurstfest Association, Felicia Miller, President of the Greater New Braunfels Art Council, and Robert Camareno, City Manager – City of New Braunfels, who carefully reviewed each artistic creation. Judging was based on the appearance and messaging of the art.
New Braunfels Utilities is proud to showcase the winning artists and exemplify the rich culture of the New Braunfels community.
###
About New Braunfels Utilities:
New Braunfels Utilities (NBU) strives to be a trusted community partner dedicated to excellence in service and is one of 2,000 community-owned, nonprofit public power electric utilities in the nation. With a mission of strengthening our community by providing resilient essential services, NBU is governed by a Board of Trustees comprised of residents appointed by the New Braunfels City Council. New Braunfels Utilities provides electric, water, and wastewater services. Utility revenues are continually invested back into the systems of the customers, which benefits the community. New Braunfels Utilities makes an annual transfer to the City of New Braunfels, which in turn helps to pay for services such as fire, police, and parks. Follow NBU on Facebook at facebook.com/newbraunfelsutilities, on Twitter at @nbutexas, and to learn more, visit nbutexas.com.