Non-Watering Schedule
Stage 3 water restrictions mandate a one-day every other week irrigation and sprinkler watering day. Your designated day is based on the last digit of your address. The calendar below shows the community watering schedule for May 2023.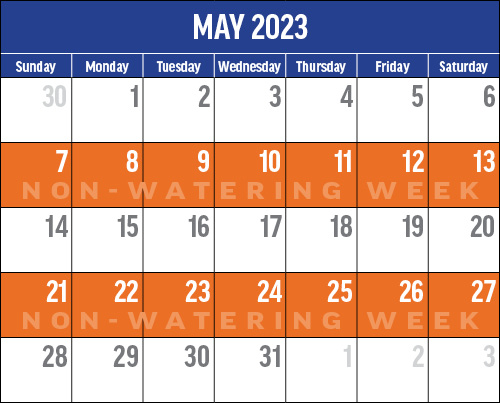 Complete Watering Restrictions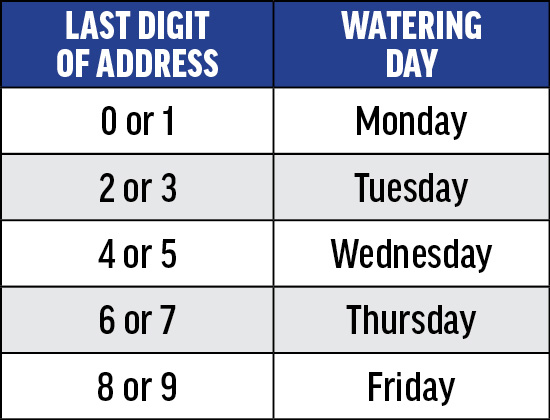 All restrictions from Stage 1 and Stage 2 remain in effect unless added to or replaced by Stage 3 rules.
Landscape watering with an irrigation system or sprinkler is allowed every other week and must be before 10:00 a.m. or after 8:00 p.m. on your designated watering day, as determined by your address. If there is no street address associated with your property, such as a parkway, or if there is more than one street address associated with a single contiguous property, your irrigation day is Wednesday.

Watering with a hand-held hose, bucket, drip irrigation system, or a soaker hose that does not spray water in the air is allowed any day, but only before 10:00 a.m. or after 8:00 p.m.

Foundations may be watered up to two hours on any day, during watering times, by handheld hose; or using a soaker hose or drip system placed within 24 inches of the foundation that does not produce a spray of water above the ground.

All outside water aesthetics (fountains, waterfalls, etc.) are prohibited.

Residential car washing allowed only on your designated watering day before 10:00 a.m. or after 8:00 p.m. Use of commercial vehicle wash facility permitted any day.

Variance requests must be approved prior to new landscape installation. Installation permitted only if not more than 50% of available landscape area is planted with turf and if proper horticulture practices are followed. Once variance letter has been received, watering permitted to maintain adequate growth until established; generally three weeks.

Washing sidewalks, walkways, driveways, parking lots, street, tennis courts, and other impervious surfaces is prohibited except in emergencies to remove spills of hazardous materials or to eliminate dangerous conditions which threaten the public health, safety, or welfare. Washing buildings, houses or structures with a pressure washer or garden hose is prohibited for aesthetic purposes but allowable for surface preparation of maintenance work to be performed. A variance from NBU must be obtained for any pressure washing performed during drought stage.

Construction, installation, and filling of new pools is not allowed. If a building permit has already been issued for pool construction, before the drought management stage was declared, construction, installation, and filling of new pools is allowed. Property owners, prior to construction, installation, or filling of pools should submit by mail, facsimile, or e-mail to the NBU Conservation Coordinator their name, address where the new pool is to be installed, the date of installation, and copy of the approved building permit in order to receive an approval letter from NBU.

NBU strongly encourages that all swimming pools, other than public swimming pools, be covered with an effective evaporation cover or screen or evaporation shields covering at least 25 percent of the surface of the pool when the pool is not in active use. Active use includes necessary maintenance that requires removal of the cover, screen, or shields.

Re-filling of ornamental lakes or ponds is prohibited; except to the extent needed to sustain aquatic life, provided that such animals are of significant value and have been actively managed within the water feature prior to declaration of a drought response level under this article.

Hotels, motels, B&B's must limit linen/towel changes to once every three nights or for the entire stay, whichever is shorter, except for health and safety.

Water leaks must be repaired within 24 hours of notification from NBU unless other arrangements are made with the conservation coordinator.
Drought Surcharge
When Stage 3 water restrictions are in effect, NBU will implement a $1.00 per 1,000-gallon drought surcharge for residential usage greater than 15,000 gallons and for irrigation usage greater than 7,500 gallons per month. To review the FY 2023 water rates, click here.
Year Round Rules
Water waste is prohibited at all times. This includes lawn watering overspray and runoff.
NBU strongly encourages that restaurants serve water only on request (to reduce dishwashing).
Charity car washes allowed only at commercial car wash facilities.
---