Are you considering or have you recently installed residential solar panels? Take our new informational survey to help us learn about your experience and improve the NBU solar program.
---
Solar Energy Facts
We understand many people may be in the dark about the benefits of commercial or residential solar equipment and how it interfaces with the NBU power grid. The facts below are designed to shed some light on getting the most out of solar energy in the NBU service area.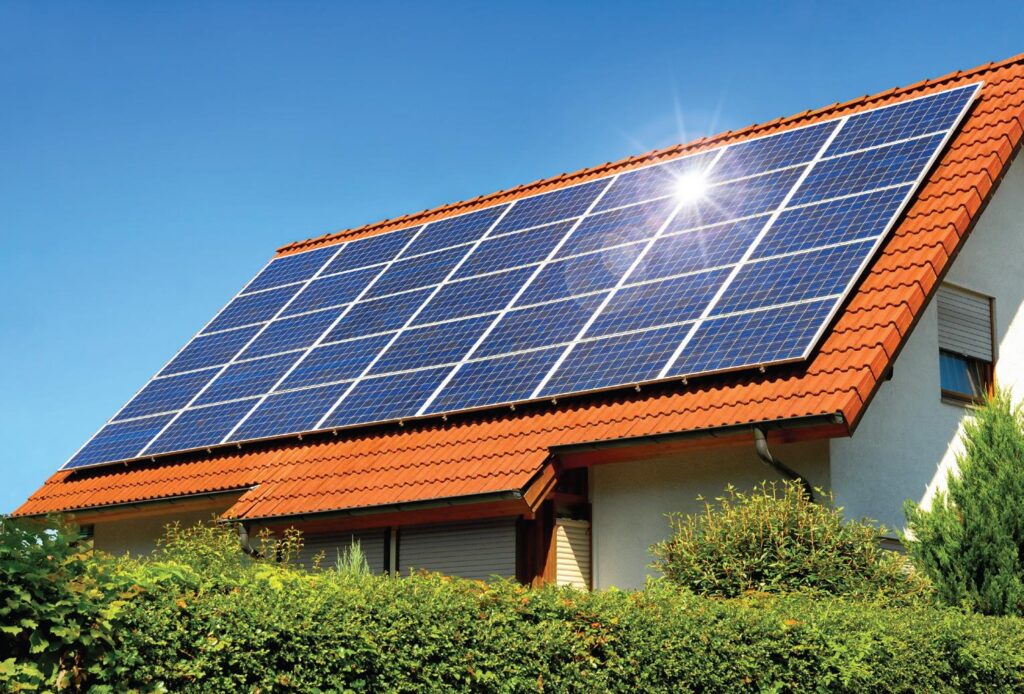 • Photovoltaic systems are sized according to their power production capacity in terms of kilowatts (kW).
• Photovoltaic systems produce energy over time, and NBU customers are billed for energy in units of kilowatt-hours (kWh).
• Most PV panels produce direct current (DC) energy which is converted to alternating current (AC) energy by an inverter.
• Panels have different ratings. The most common are Standard Test Conditions (STC), Photovoltaics for Utility Scale Applications Test Conditions (PTC), and Nominal Operating Conditions (NOC). New Braunfels Utilities rates systems using NOC because it most closely matches normal conditions.
• Photovoltaic panels produce energy best when ambient temperatures are low and there is adequate sunlight available. When the panels get hot, or when they don't get direct sunlight, energy production capacity decreases.

• Leased generation systems and generation acquired through power purchase agreements are prohibited by law within the NBU service area.
• All photovoltaic systems and the energy produced by them must be owned by the customer.
• Panel orientation impairs production characteristics:
– North-facing panels produce roughly 50 to 60 percent of the energy when compared to panels facing other directions.
– Production of east-facing panels peak in the morning.
– Production of south-facing panels peak mid-day, and these typically produce the most annual energy.
– Production of west-facing panels peak in the afternoon.
---
Solar Energy FAQ's
Billing Questions
Yes, NBU assesses a surcharge of $1.58 per kW of system size. A typical 5kW system may have a monthly surcharge of $7.90. Additionally, there is an annual $100 inspection fee.
Currently, NBU will bank excess generation and apply the banked kWh on subsequent monthly bills. Customers will be notified if this billing practice changes.
Customers must notify NBU if their system is deactivated in order for their surcharge to be discontinued.
The minimum bill for an NBU customer with solar installed, consists of the monthly customer charge, plus the monthly delivery point surcharge. The residential monthly charge is approximately $17 and small commercial monthly charge is approximately $23. The residential monthly delivery point surcharge is $1.58 per kW of installed capacity. The monthly delivery point surcharge for small commercial customers is $0.86 kW of installed capacity.
Metering Questions
Homes with PV systems are required to have two meters. One meter is a dedicated solar generation meter that measures energy generated on site. The second is a consumption meter that measures energy used on site. If interconnected with a back up battery system and a smart switching MID, a one meter system can be accepted for the duration the smart switch is in operation.
Your bill, not including monthly surcharges, is based on energy consumption minus energy generation.
Energy Consumption – Energy Generation = Bill Total
Process Questions
Contact NBU's Electric Engineering Department by email and a technician will be assigned to review your project.
Currently, PV systems interconnected with NBU distribution are limited to 999 kW for commercial.
Miscellaneous Questions
New Braunfels Utilities does not maintain a list of approved or preferred installers. We urge customers to shop around and compare offers from multiple installers.
New Braunfels Utilities does not prohibit any customer from disconnecting electric service.
New Braunfels Utilities can help customers understand their billing history and estimate production for proposed generation systems. Email us or call 830.608.8951 for more information. The National Renewable Energy Laboratory (NREL) offers a free calculator to estimate solar costs. To access this free calculator, visit pvwatts.nrel.gov.
Your manufacturer and/or a licensed electrician is the appropriate contact.